OVERVIEW | PLC DEVICES
TOP
For Programmable Logic Controllers (PLC) CNCnetPDM enables you to monitor machine-, process- and quality-data in near real time and deliver it to your business information systems. It also allows to control connected devices directly from your applications. A single instance of CNCnetPDM can simultaneously communicate with PLCs from different vendors and output their data in comparable, standardized form.
BENEFITS | TOOLS | DEVICE MONITORING | DOCUMENTS | HOW-TO
CNCnetPDM PLC IOT Interfaces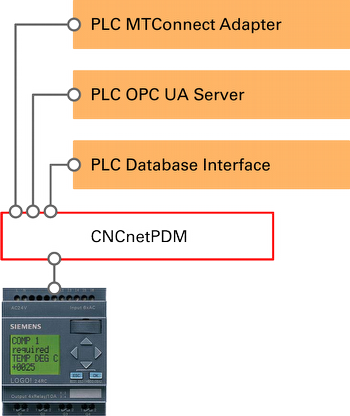 In general CNCnetPDM can be used with any PLC or electronic device that is connected to your company network by Ethernet and supports Modbus TCP protocol in server mode.
BENEFITS
With CNCnetPDM you can
Add

MTConnect, OPC UA and database support to existing PLC devices

Control

PLCs from remote locations by using standardized commands

Acquire

and output data from equipment from different vendors by a single solution

Retrofit

legacy machines by adding inexpensive PLCs modules and output their data to Business Information Systems
TOOLS
GUI program to read and write data from/to PLCs and electronic devices from different manufacturers.
DEVICE MONITORING
CNCnetPDM device driver for monitoring, control and output of PLC data.
DOCUMENTS
HOW-TO
Retrofit of a conventional machine with MTConnect, OPC UA and SQL database functionality at costs under 100 €
Privacy notice
This website uses cookies. By continuing to use it you agree to our privacy policy.