OVERVIEW | HAAS
TOP
For machines with Haas Standard and Next Generation (NGC) Controls CNCnetPDM enables you to acquire and monitor machine-, process-, part-counter and quality-data in near real time and integrate it seamlessly with your business information systems. CNCnetPDM supports data acquisition from Haas controllers that have an Ethernet network connection.
CNCnetPDM Haas IoT Interfaces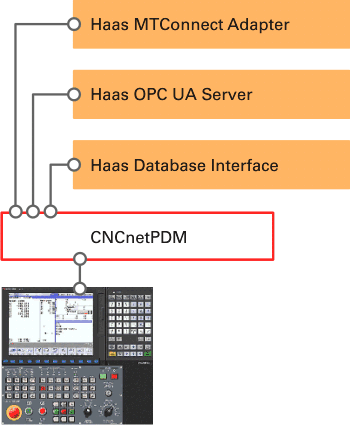 Data that can be read from Haas controls
Machine information (model number, software version, serial number)
NC Program
Cycle Time
Part Counter
Machine mode
Machine running state
Spindle data (speed, load)
Axis load data
Override information
Alarm status
Tool information (number, length, wear, offset, radius)
Macro and System Variables
Please start by using our tool Haas Machine Data to test reading and writing data from/to your machines with Haas controls. Instructions on control setup are also included.
Monitoring of machine data with sampling rates down to 1 second is provided by our CNCnetPDM Haas Machine Monitoring Device Driver.
All acquired data can easily be accessed and used by your applications. For bidirectional communication between machines with Haas controls connected to CNCnetPDM and your applications you can use our free Open Source Client (C-Sharp)
Privacy notice
This website uses cookies. By continuing to use it you agree to our privacy policy.