QUICK START GUIDE
Version 5.0.0.0
If you don't want to go through all the steps described in the user manual and you know what you're doing simply follow the steps below to have CNCnetPDM up and running in a few minutes:
Extract ALL files to a folder of your choice. If you'd like to run CNCnetPDM as a background service it is recommended not to use folders 'Program Files' or 'Program Files (x86)'.
Initially, configuration file CNCnetPDM.ini is configured to find devices by their IP-Addresses (UseDNS = 0), change that to 1 if you'd like to use DNS hostnames.
In CNCnetPDM.ini all collectable items from CollectStates to CollectOrders are set to 1 so you get 5 items per reading cycle, set one or all of them to 0 if you'd like to get less output.
In section [RS232] of CNCnetPDM.ini one device is configured:

1 = 1000;19200;8;N;1;TEST #1;127.0.0.1;0;0;localhost;0;0;none;none;0;device.dll

Means, CNCnetPDM uses your PC as device also (127.0.0.1 and localhost), device driver is device.dll
device.dll tries to reach the device and, if successful, creates random values for all items.
To create an additional device copy the first line, change the sequential number of the device (1), assign a new device number (2) and name (3). Change IP-Address (4) or DNS hostname (6). Port (5) has to be changed if you query your device via Ethernet on a specific port, (e.g. 8193 = Fanuc FOCAS default). If you query part counter values change the number in PLC Addr. (7), here 6712 a Fanuc FOCAS parameter is used.
If you already have your own device driver change device.dll to the name of the device driver, here fanuc.dll (8).

FIG 1: Add an additional device
Repeat step 7 for additional devices.
For a new installation CNCnetPDM automatically creates entry StartOffline = 1 in section [connect] of the INI file. In this mode the program writes all acquired data to files in subfolder \offline and doesn't try to establish a database connection. More on database configuration can be found in section 'links' below.
Double click on CNCnetPDM, click on button 'Start Thread' to start CNCnetPDM as a foreground program. Follow the instructions in the links section to install and start CNCnetPDM as background service.
Double click CNCnetControl, the GUI shows your connected devices on the left (1) and the incoming data on the right (2)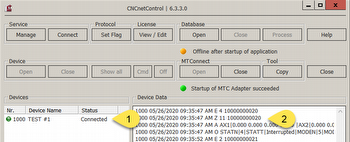 FIG 2: CNCnetControl GUI
You're done!
USEFUL LINKS