MACHINE DATA | OKUMA
TOP
To report Okuma machine data to your applications you have to be able to acquire it from your devices. For Okuma machine tools equipped with OSP P controllers version 100 or higher that are connected to your company network via Ethernet you can use the utility program MTConnect.exe (GUI) to do so. This article contains instructions on controller setup and test of data acquisition.
CONTROLLER SETUP | TEST PROGRAM | SOFTWARE DOWNLOAD | USAGE | TROUBLESHOOTING
CONTROLLER SETUP
Okuma machine tools with controllers version P-100 or higher should already have the Okuma MTConnect Adapter installed by default. If not the Adapter can be downloaded from https://www.myokuma.com/mtconnect-agent-adapter free of charge. If you install it at the controller do NOT install the Agent software supplied with the Adapter.
Usually the the Okuma MTConnect Adapter software will be launched automatically by the Start-Up service after NC is started
completely.
If the Adapter is

not

started automatically you can manually start it by pressing 'Ctrl + [///]' on the operation panel to pop up the start menu followed by clicking Programs -> Okuma MTConnect Adapter -> Okuma MTConnect Adapter Application. If prompted for a user name and password use credentials with Administrator rights of the controllers Windows Operating system.
After the application is launched without error, it will be minimized in the system tray and shown as an icon. If you double-click the icon or press 'Show' from the pop-up menu, the main user interface will be displayed.
OKUMA TEST PROGRAM
To see and test data output from Okuma machine tools you need the program MTConnect.exe. It allows you to read machine data output by the Okuma MTConnect Adapter at the controller from a remote PC.
SOFTWARE DOWNLOAD
USAGE
Extract all content of MTConnect.zip to a folder on your PC and double click MTConnect.exe. If you run the program directly at the controller that runs the Okuma MTConnect Adapter you can simply click on button [Connect] to get data. On a remote PC you have to enter the IP Address or DNS Hostname (1) of the controller with the Okuma MTConnect Adapter and the appropriate TCP Port (2) default = 7878. To avoid that the controller automatically disconnects you have to set a suitable ping interval (3) default = 10 sec.
Note: Make sure that TCP Port 7878 is opened in your firewall.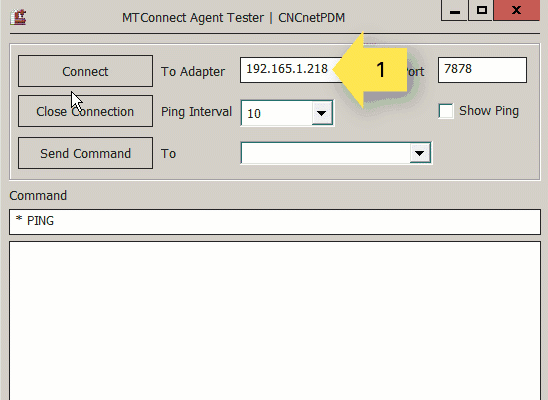 FIG 1: Okuma test program
After clicking button [Connect] initially the device outputs one line with ALL items (5) acquired from your machine to the test program. After that, the device outputs only data for items that have changed (6). If you check 'Show Ping' (4) the program additionally outputs ping and pong communication between test program and controller. As described in 'MTConnect Overview' a line output by a controller adapter starts with a timestamp in UTC or local time followed by key | value pairs delimited by a pipe character '|'.
Notes: Diagnostic messages output by MTConnect.exe like 'Agent received: ' are added by MTConnect.exe, they are not part of the adapter output.
TROUBLESHOOTING
If you encounter any error refer to chapter 7 of the 'Okuma MTConnect Adapter Software User Manual' which is contained in the Okuma MTConnect software package that can be freely downloaded at https://www.myokuma.com/mtconnect-agent-adapter
Privacy notice
This website uses cookies. By continuing to use it you agree to our privacy policy.