EQUIPMENT SCRAP ANALYSIS | INTERNET OF THINGS
TOP
This dashboard shows an analysis about bad quality produced by manufacturing equipment in one or all departments of a plant (A) within a selected period. Right to a pie chart (B) which contains the percentage distribution of scrap quantity a graph with the first pass yield trend of the machines is shown.
In addition to the effective run time of the equipment the table (D) at the bottom shows first time good quantity, total quantity produced, rejected quantity, reworked quantity scrapped quantity, first pass yield, overall effective run time and production loss due to bad quality for the equipment.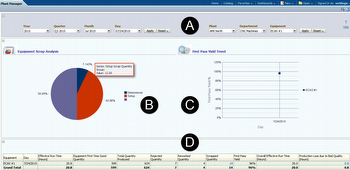 FIG 1: Plant Manager Dashboard - Equipment Scrap Analysis (click to enlarge)
As the vast majority of machines used by discrete manufacturers usually is not able to decide about the produced quality this data is acquired in a subsequent quality assurance (QA) operation. The machine itself automatically reports 'total quantity produced' which is separated up into good, rejected, reworked and scrapped parts by the QA operation.
Clicking on the field 'scrapped quantity' in table (D) opens up the scrap reasons report (E) which shows reporting time, shift, product, unit of measure (UOM), work order, scrap quantity and reason for scrapped parts produced.

FIG 2: Plant Manager Dashboard - Scrap Reasons Report (click to enlarge)
Privacy notice
This website uses cookies. By continuing to use it you agree to our privacy policy.