MACHINE DATA | MAZAK
To report Mazak machine data to your applications you have to be able to acquire it from your devices. For Mazak machines equipped with Mazatrol & Matrix controllers that are connected to your company network via Ethernet you can use the utility program MTConnect.exe (GUI) to do so. This article contains instructions on controller setup and test of data acquisition.
CONTROLLER SETUP | TEST PROGRAM | SOFTWARE DOWNLOAD | USAGE | ADAPTED CONTROLLERS
CONTROLLER SETUP
MAZATROL SMOOTHC / SMART CNC
MAZATROL SMOOTHX / SMOOTHG
MAZATROL FUSION CNC
MATRIX CNC
MAZAK TEST PROGRAM
To see and test data output from Mazak machines you need the program MTConnect.exe. It allows you to read machine data output by the Mazak MTConnect Adapter that may be installed directly at the controller or on a remote PC. Data output by both variants can also be accessed from a remote PC. TOP
SOFTWARE DOWNLOAD
USAGE
Extract all content of MTConnect.zip to a folder on your PC and double click MTConnect.exe. If you run the program directly at the controller or PC that runs the Mazak MTConnect Adapter you can simply click on button [Connect] to get data. Otherwise you have to enter the IP Address or DNS Hostname of the device with the Mazak MTConnect (1) and the appropriate Port (2) default = 7878. To avoid that the controller automatically disconnects you have to set a suitable ping interval (3) default = 10 sec.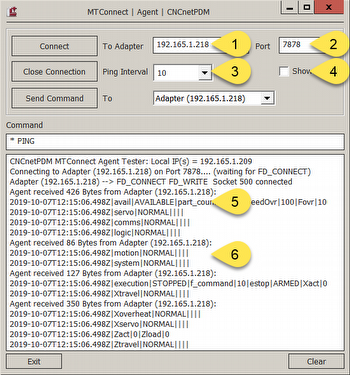 FIG 2: Mazak test program TOP
After clicking button [Connect] initially the controller outputs one line with ALL items (5) acquired from your machine to the test program. After that, the device outputs only data for items that have changed (6). If you check 'Show Ping' (4) the program additionally outputs ping and pong communication between test program and controller. As described in 'MTConnect Overview' a line output by a controller adapter starts with a timestamp in UTC or local time followed by key | value pairs delimited by a pipe character '|'.
ADAPTED CONTROLLERS
Controller

NC Software Version

Mazak Machine Models

640T NEXUS

BND365W004B8G

Quick Turn

640M NEXUS

BND360W004ABD

M/C

640T/MT/TE

BND36_W000DDG

QT, Integrex, MPX

640M/M-5X

BND360W000CGG
BND378W000ACG

M/C

640MPro

BND398W000ABP

Integrex e-series

640T NEXUS

BND36_W006A8G

Quick Turn

640M NEXUS

BND360W006A9D

M/C

640T/MT/TE

BND36_W002A8G

Integrex, MPX

640M/M-5X

BND360W002AAG
BND378W002A9G

M/C

640MTPro

BND399W000ABD

INTE MK3

640MPro

BND398W002A5P

Integrex e-series

MATRIX

E0

e-series, Ramtec

MATRIX

C4B

INTEGREX-IV

MATRIX

D4

Versatech

MATRIX

C3

CTT, HQR, MP-II

MATRIX

D3

VRX, VRX-II, VRX-T, SVC

MATRIX

D3

VTC

MATRIX NEXUS

D4

VCN, HCN, FJV mk2

MATRIX NEXUS

D4

QTN-II, MTM, STN, CT

Matrix

C9

Integrex i150-series

Matrix

D1

Integrex i200-series

Matrix

D2

Integrex j-series

MATRIX II

All

All Machine Models

SMART CNC

Turn AFE Mill ADE

All Machine Models

Smooth X/G CNC

All

All Machine Models

Mitsubishi M700

All

Orbitec, Specials

Smooth C CNC

Turn:A2 Mill:A3

All Machine Models
Privacy notice
This website uses cookies. By continuing to use it you agree to our privacy policy.