OVERVIEW | CITIZEN
TOP
For Citizen machines with Mitsubishi controllers CNCnetPDM allows you to acquire machine-, process and quality-data in near real time and use it for your business information systems. CNCnetPDM enables access to all machine data on Citizen machines and to build customized sets of data acquisition items according to your needs.
CNCnetPDM Citizen IoT Interfaces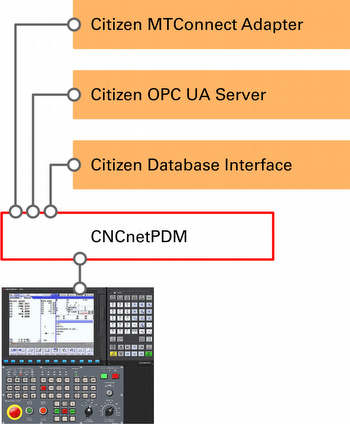 In general access from a remote PC to Citizen CNCs is possible if they are connected to your company network via Ethernet. For communication Citizen uses a customized manufacturer specific Mitsubishi API (Application Program Interface). CNCnetPDM fully supports this interface for controllers on machines from Citizen.
All Citizen tools and drivers can also be used for Mazak machines with Mitsubishi controllers! For machines with Mitsubishi controllers from other vendors please use the CNCnetPDM tools and drivers for Mitsubishi CNCs.
Documents
Tools
Drivers
Privacy notice
This website uses cookies. By continuing to use it you agree to our privacy policy.